Yes, GLP-1 (glucagon-like peptide-1) agonists are a class of medications used in the management of type 2 diabetes. These medications mimic the action of natural GLP-1 hormones produced by the body, which stimulate insulin secretion from the pancreas, reduce glucagon secretion, slow gastric emptying, and promote satiety.
By increasing insulin secretion and reducing glucagon secretion, GLP-1 agonists help to lower blood glucose levels in people with type 2 diabetes. They can also help to improve beta-cell function, decrease insulin resistance, and promote weight loss, all of which can lead to better blood glucose control.
GLP-1 agonists are usually used in combination with other diabetes medications, such as metformin, to further improve glycemic control. They are generally well-tolerated, with few side effects, and have been shown to reduce the risk of cardiovascular events in people with type 2 diabetes. However, as with any medication, it is important to discuss the risks and benefits with your healthcare provider to determine if GLP-1 agonists are appropriate for you.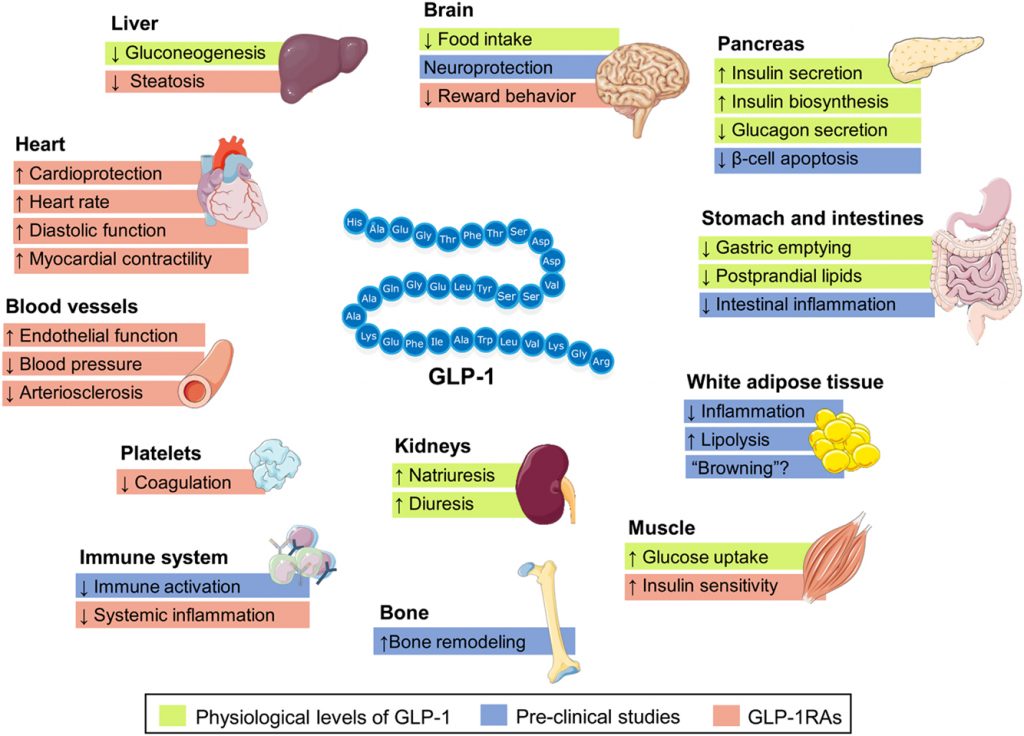 Side effects of GLP-1 agonists
GLP-1 (glucagon-like peptide-1) agonists are generally well-tolerated, but like all medications, they can cause side effects in some people. Here are some potential side effects of GLP-1 agonists:
Nausea: This is the most common side effect of GLP-1 agonists, affecting about 20-40% of people who take them. Nausea usually goes away over time as the body gets used to the medication.
Vomiting: Some people may experience vomiting, especially if they have severe nausea.
Diarrhea: This side effect is less common, but some people may experience diarrhea.
Hypoglycemia: GLP-1 agonists are not known to cause hypoglycemia on their own, but when combined with other diabetes medications such as insulin or sulfonylureas, they can increase the risk of low blood sugar.
Injection site reactions: GLP-1 agonists are injected subcutaneously, and some people may experience redness, swelling, or itching at the injection site.
Pancreatitis: In rare cases, GLP-1 agonists have been associated with pancreatitis, a potentially serious inflammation of the pancreas.
Thyroid tumors: Studies in rodents have shown an increased risk of thyroid tumors with long-term use of high doses of GLP-1 agonists. However, this risk has not been observed in humans.
It is important to discuss any concerns or potential side effects with your healthcare provider before starting or changing any medication.
There are several GLP-1 (glucagon-like peptide-1) agonists available for the treatment of type 2 diabetes. Here are some examples:
Exenatide (Byetta, Bydureon): This GLP-1 agonist is administered by injection twice daily (Byetta) or once weekly (Bydureon).
Liraglutide (Victoza): This GLP-1 agonist is administered by injection once daily.
Dulaglutide (Trulicity): This GLP-1 agonist is administered by injection once weekly.
Semaglutide (Ozempic): This GLP-1 agonist is administered by injection once weekly.
Lixisenatide (Adlyxin): This GLP-1 agonist is administered by injection once daily (Very rarely used)
References:-
American Diabetes Association. Pharmacologic Approaches to Glycemic Treatment: Standards of Medical Care in Diabetes-2022. Diabetes Care. 2022;45(Suppl 1):S111-S124. doi:10.2337/dc22-S009
Umpierrez GE, Pantalone KM. GLP-1 Receptor Agonists for Diabetes Management: The Glucagon-like Peptide-1 Receptor Agonists for Diabetes Management: The Latest Class of Drugs in the Arsenal. Diabetes Care. 2014;37(4):1086-1093. doi:10.2337/dc13-2185
Nauck M, Weinstock RS, Umpierrez GE, Guerci B, Skrivanek Z, Milicevic Z. Efficacy and Safety of Once-Weekly Semaglutide versus Exenatide ER in Subjects with Type 2 Diabetes (SUSTAIN 3): A 56-Week, Open-Label, Randomized Clinical Trial. Diabetes Care. 2018;41(2):258-266. doi:10.2337/dc17-1391
Pfeffer MA, Claggett B, Diaz R, et al. Lixisenatide in Patients with Type 2 Diabetes and Acute Coronary Syndrome. N Engl J Med. 2015;373(23):2247-2257. doi:10.1056/NEJMoa1509225
Dungan KM, Povedano ST, Forst T, et al. Once-Weekly Dulaglutide Versus Once-Daily Liraglutide in Metformin-Treated Patients With Type 2 Diabetes (AWARD-6): A Randomised, Open-Label, Phase 3, Non-Inferiority Trial. Lancet. 2014;384(9951):1349-1357. doi:10.1016/S0140-6736(14)60976-4
American Diabetes Association. Pharmacologic Approaches to Glycemic Treatment: Standards of Medical Care in Diabetes-2022. Diabetes Care. 2022;45(Suppl 1):S111-S124. doi:10.2337/dc22-S009
Nauck M, Weinstock RS, Umpierrez GE, Guerci B, Skrivanek Z, Milicevic Z. Efficacy and Safety of Once-Weekly Semaglutide versus Exenatide ER in Subjects with Type 2 Diabetes (SUSTAIN 3): A 56-Week, Open-Label, Randomized Clinical Trial. Diabetes Care. 2018;41(2):258-266. doi:10.2337/dc17-1391
U.S. Food and Drug Administration. GLP-1 Receptor Agonists (Byetta, Bydureon, Victoza, Saxenda, Tanzeum, Trulicity). Updated October 30, 2020. https://www.fda.gov/drugs/postmarket-drug-safety-information-patients-and-providers/glp-1-receptor-agonists-byetta-bydureon-victoza-saxenda-tanzeum-trulicity
Drucker DJ. Biological actions and therapeutic potential of the glucagon-like peptides. Gastroenterology. 2002;122(2):531-544. doi:10.1053/gast.2002.31061
Buse JB, Nauck M, Forst T, et al. Exenatide Once Weekly versus Liraglutide Once Daily in Patients with Type 2 Diabetes (DURATION-6): A Randomised, Open-Label Study. Lancet. 2013;381(9861):117-124. doi:10.1016/S0140-6736(12)61267-7